Camera is designed for recording and digital processing of continuous and pulsed images from the output of streak cameras, including images that appear at arbitrary times.
Description

Contact details

8 (800) 350 25 51

ext 3612

8 (495) 665 52 91

feld@vniiofi.ru
Main components:
CCD television camera (TVC) with lens, external synchronization connector and USB interface (TVC can be powered by a PC);
PC (laptop);
external synchronization cable;
electrical and fiber optic communication line with a computer;
FastGlance software.
Software
Features of FastGlance base Software:
display of the entire recorded image or any of its fragments in the scale selected by the user;
saving recorded image or sequence of frames on the hard drive or removable media;
image accumulation both on a CCD matrix or in software;
image arithmetics (sum or subtraction of last image input with recorded file, sum or subtraction of 2 files);
subtraction of regular noise and constant background from the image;
rotation of the received image around the center of the frame by the angle selected by the user;
visualization of brightness profiles (intensity) of the image in a linear scale. One or two cursors can be used to set lines or areas that are used to make brightness profiles;
measuring width of relative brightness profiles at levels 0.1 and 0.5 relative to maximum, measuring rise and fall of profiles, between levels 0.1 and 0.9 ( or 0.9 and 0.1);
measurement of the relative brightness of the image at the point or zone set by an onscreen cursor with the possibility of stretching the brightness profile scale by 1.5; 2; 2.5 or 3; option to use automatic brightness profile scale to display maximum value on the brightness profile as 0.9 of the maximum scale;
measuring speed of movement of objects on images recorded with streak cameras in linear sweep or multi-frame modes;
digital image correction (brightness, contrast and gamma);
correction of photometric and geometric distortions of the image, including non-uniformity of the linear sweep coefficient;
Images can be displayed on screen with several options of pseudo-coloring (shades of grayscale, blue or multi-color), which helps determine increased amount of brightness levels;
Indication of the brightness (ADC) level overflow with white or red color. Overlight indication can be disabled;
creation of video clips from images recorded with streak cameras in multi-frame.
An example of using software to measure the contrast of an image of an optical test-object
Pic.1. Brightness profiles of test-object elements.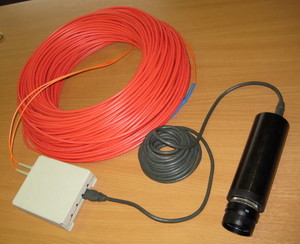 Pic.2. RU-05M CCD camera with fiber-optic communication line.
Operating conditions:
Humidity ≤ 80%
Temperature 283 – 308 К
Pressure 95 - 105 kPa
Main Specifications
Input lens parameters:
- focal length, mm
- relative aperture d/f, rel. units


16
1:1,6

CCD type

½'' SONY ICX205AL

Размер ПЗС матрицы, мм

6,4 × 4,8

CCD matrix size, mm

4,65 × 4,65

Number of pixels

1392 × 1040

Spectral sensitivity range, nm

400 – 1000

Camera gain adjustment limits, dB

6 – 36

Length of the communication line with the computer, m:
- electrical cable
- fiber optic cable


≤ 5
≤ 100

Supply voltage, V

5

Power consumption, A

0,5

Operating temperature range, °C

-10 – +50

Sensitivity (illumination on a CCD matrix at a wavelength of 500 nm with a gain of ~ 12 dB and a signal-to-noise ratio at the camera output equal to 1), photon/pixel

≤ 80

Spatial resolution on a CCD matrix at a contrast of 50%, lp/mm

≥ 60

Operating modes:
1.Continuous with single and cyclic image input and processing
2. Waiting (with external trigger)


+
+

Maximum triggering frequency, Hz

7,5

Sync input resistance, Ohm

100

Linear dynamic range at 22.5 dB gain and 100 µs accumulation time, rel. units

320

Dimensions, mm:
- length
- diameter


148
48

Weight, g

≤ 300
Complete set
| № | Name | Q-ty | Note |
| --- | --- | --- | --- |
| 1 | RU-05M CCD Camera | 1 | |
| 2 | External Synchronization Cable | 1 | |
| 3.1 | Communication line with a computer electric (≤ 5 m) | 1 | |
| 3.2 | Communication line with a computer fiber optic (≤ 100 m) | 1 | Optional |
| 4 | Flash drive with FastGlance software | 1 | |
| 5 | Laptop with FastGlance software installed | 1 | Optional |
| 6 | User manual | 1 | |
| 7 | Package | 1 | Case |